5 things to do this Autumn & Winter at The Greyhound Inn, Corfe Castle!

If you were under the impression that there might not be a lot to do on a holiday in Corfe during autumn and winter, or that places will be closed up and hibernating, then we are here to tell you why you couldn't be more wrong!
Corfe Castle is increasingly becoming an all-year-round destination for a short break, long weekend or long holiday during the months from October to December.
If you fancy making memories with loved ones, then take a look at the list we have put together below, of some fantastic things to do during a holiday in Corfe…
1. WHOLE HOG SUNDAYS | October 23rd | October 30th 2022
Looking for an adventure filled Sunday?
All ages are captivated by the breath-taking Corfe Castle views, where you can learn about local tales of treachery and discover fallen walls and secret places throughout the ruins.
After an adventure filled Sunday, join us and sit back, relax and enjoy the mouth-watering aromas of slow roasted whole hog, served in baps full of crackling, homemade apple sauce and stuffing. Or perhaps you would prefer to enjoy The Greyhound Festival Platter, delicious hog roast bap served with a duo of char-grilled local sausages and pork scratching's, enjoyed with a local cider slider.
We are extremely happy to announce another local addition to our menu! We will have a fantastic array of Temple Ciders available during our Sausage and Cider Festival this October half term. As we're sure you're going to love these local ciders as much as we do, they will be officially added to the menu from November!
The perfect Sunday day out.
2. SAUSAGE & CIDER FESTIVAL | October 22nd – 30th 2022
It's one of our favourite times of year… the Sausage & Cider Festival!
Corfe's Sausage and Cider Festival is set to return for its 10th edition in October 2022. Join us for this wonderful family-friendly festival in the heart of the Purbeck, beneath the ruins of Corfe Castle.
What's on offer:
Choose from a selection of local ciders. Including the finest premium local ciders from @purbeckciderfarm & Temple Ciders.
A huge selection of food choices from Pulled Pork, Pork Belly, Whole Hog, Fish and Chips, Sausage and Mash, Toad in the Hole, Vegan and Gluten Free specials plus many more.
Our Sausage and Cider Festival special is our Porky Platter, a delicious pulled pork bap, served with a duo of char-grilled local sausages and pork scratching's, enjoyed with a local cider slider.
3.HALLOWEEN | October 22nd – 31st 2022

Halloween only comes around one glorious, but all-too-short, day a year. Lucky for horror enthusiasts, here at The Greyhound Inn you can experience the spooky thrill this year for the whole of half term! All whilst enjoying Halloween inspired treats, including Fangtastic Freak Shakes, Horrifyingly Heavenly Hot Chocolates and Creepy Cupcakes.
Our marquee will be transformed into a spooky library allowing you to feel truly spooked out!
4.POLAR BAR & CANDY CABIN | December 2022
Our garden and marquee will be transformed into a festive-filled PolarBar throughout the whole of December. Friends and family can join together to enjoy a fantastic themed menu, including our popular Mountain Fondue and Raclette options, whilst sipping on a locally crafted boozy Christmas cocktail.
Looking for a slightly more romantic feel? Cuddle up in a blanket as you admire the gorgeous views of Corfe Castle beaming with gleeful lights and Christmas spirit, all whilst enjoying a delicious sharing platter.
** Heated spaces, with warming throws will be provided. **
Our gastropub will be transformed into a Candy Cabin, providing more of a cosy, snug and relaxed atmosphere. Perfect for an intimate lunch or dinner with a loved one. Our menu includes so much more than roast turkey or beef – whether it's our German Schweinshaxe, Swiss Raclette or French Onion Soup. We have delicious delights for all.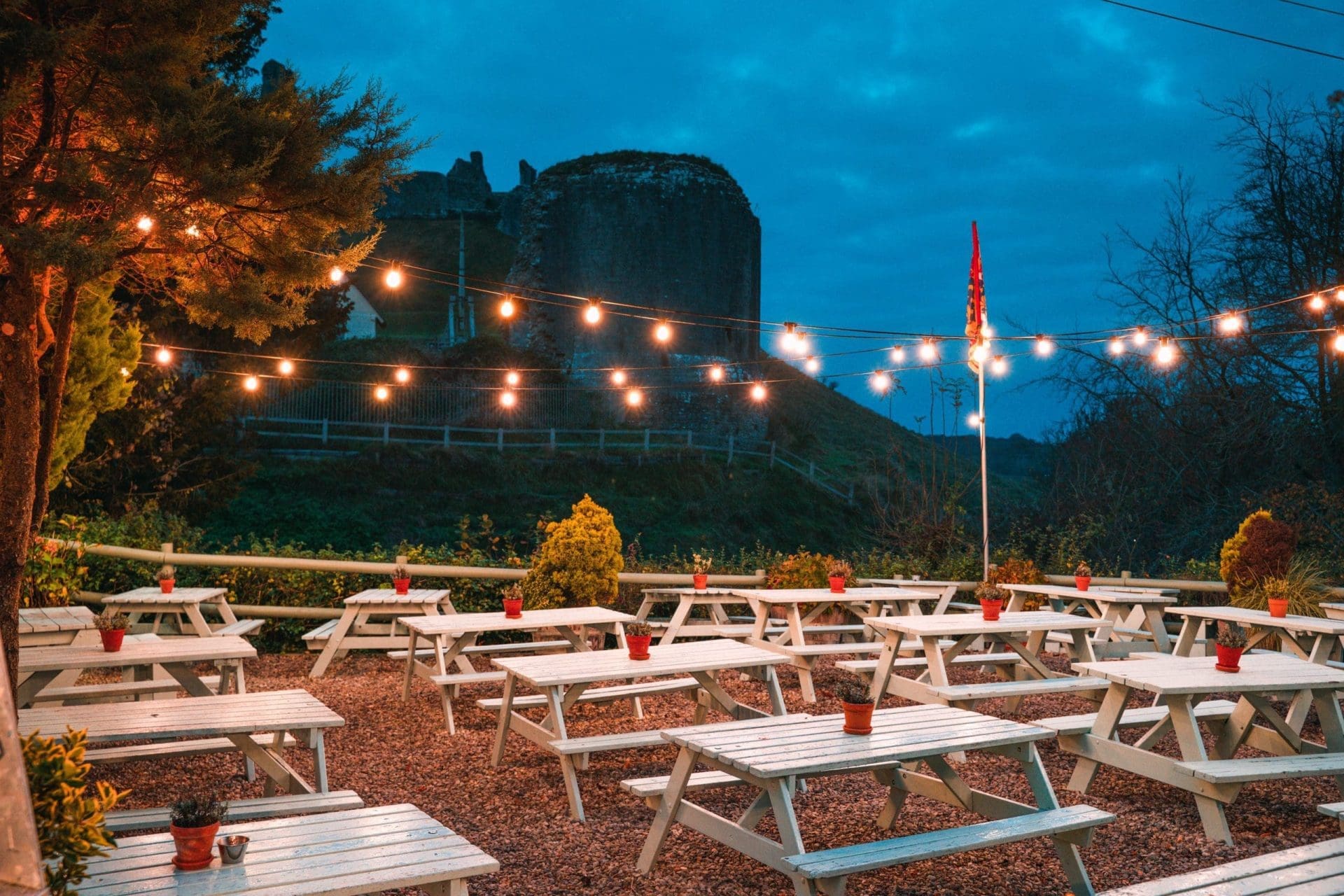 5.WALKIES
Surrounded by lush, green fields and the open ocean beyond, the ancient village of Corfe Castle is the perfect location to bring your four-legged friend on an adventure in the countryside.
The Greyhound Inn is the paw-fect place to warm up feet and paws alike at the end of a long day exploring Corfe Castle, where you can enjoy warming hot chocolates.
Take time to relax and enjoy this autumn and winter in the seasonal setting of Corfe Castle.