Step into the magical atmosphere of The Greyhound Inn this Christmas and celebrate the festive season in a place where every corner is steeped in history.
WE ARE NOW FULLY BOOKED, JOIN OUR WAITING LIST.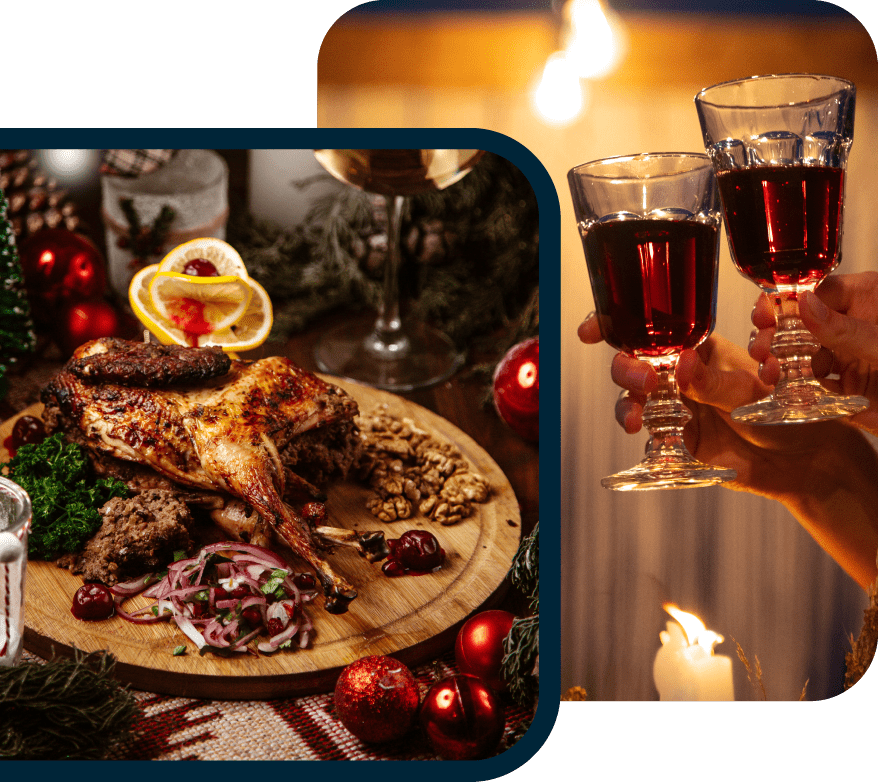 The perfect christmas meal For just
£81.95

per person
This Christmas Day, gather your loved ones and head to The Greyhound Inn, nestled in the picturesque surroundings of Corfe Castle, for a festive gathering that marries comfort and celebration seamlessly. For just £81.95 per person, delight in a 5-course menu that promises joy on every plate, creating the perfect setting for a family-focused Christmas celebration. Whether you're looking to reunite with family or catch up with friends, The Greyhound Inn provides a setting that embodies the warm spirit of the season. With our blend of traditional charm and modern comfort, it's the ideal backdrop for festive photos and joyful toasts with your nearest and dearest.
Festive cheer — meets family comfort
Savour the Spirit of Christmas with Our Exceptional Menu
Indulge in a Christmas Day Menu that's been crafted with family at its heart. Our chefs bring to your table an assortment of dishes that encapsulate the festivity and richness of the season, promising a dining experience that's both familiar and delightful. From traditional favourites to contemporary treats, there's something to make every family member's Christmas merry and bright.
Exclusively Using Fresh Ingredients
Les Fondue De La Raclette Nights
make The Greyhound Inn your destination this Christmas Day
The Greyhound Inn where festive cheer meets family comfort, promising a celebration that's both heartwarming and delightful. We look forward to being a part of your family's Christmas story this season.