Welcome to The Greyhound Inn, Corfe Castle—your ultimate destination for a memorable Sunday outing with your family! Nestled in the heart of Corfe's picturesque village, our historic gastropub is not just a place to dine but an integral part of the local heritage.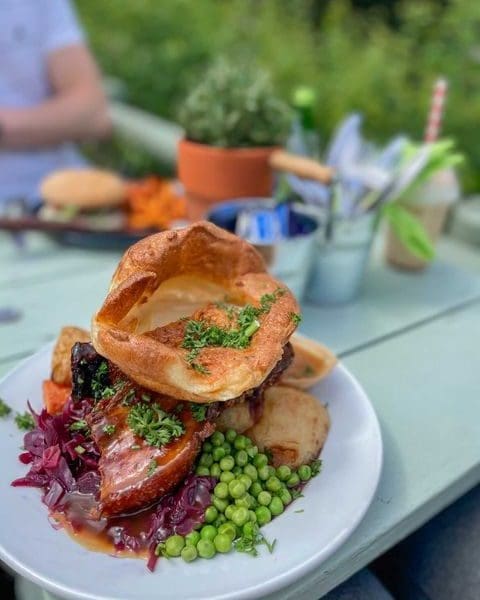 As you explore the enchanting streets of Corfe, with it's quaint little shops and the magnificent ruins of Corfe Castle towering in the backdrop, you'll come across our inviting gastropub. 

We invite you and your family to join us for a memorable Sunday lunch that perfectly complements your day out in Corfe. Immerse yourself in the charm of this picture-postcard village, and let us elevate your experience with our exquisite culinary offerings.
Our carefully crafted Sunday lunch menu is a testament to our commitment to excellence. We pride ourselves on sourcing the finest ingredients and showcasing the best of local produce. For those who savour the rich flavours of perfectly aged beef, our 32 Day Sirloin of Beef is a true highlight. Cooked to perfection, each tender bite will transport you to culinary heaven. If you prefer poultry, our Rotisserie Roasted Chicken will captivate your senses with its succulent and flavoursome meat. And for those seeking a sumptuous and comforting option, our Slow Roasted Pork Belly is a true delight—each bite melting in your mouth and leaving you craving for more.  

We understand that catering to diverse dietary preferences is essential. That's why we've carefully curated a vegan option—our Nut Roast. Bursting with wholesome ingredients and flavours, it offers a delightful alternative that vegans can savour with joy.
At The Greyhound Inn, we take pride in being more than just a place to eat. We are an integral part of the Corfe experience, where locals and visitors come together to create cherished memories. Our warm and welcoming atmosphere, combined with our friendly and attentive staff, ensures that your time with us is nothing short of memorable.
To make the most of your Sunday lunch at The Greyhound Inn, we recommend making a reservation in advance. Our team will be delighted to assist you in securing the perfect spot for your family. Give us a call at 01929 480205 or visit our bookings page on our website to reserve your table.
Please note that our menu may vary to reflect the finest seasonal produce and our commitment to providing you with the best culinary experience. Stay connected with us on social media for updates or call us to explore what we have on offer.
We can't wait to share a delightful Sunday lunch with you at The Greyhound Inn—your cherished destination in the heart of Corfe Castle!