**Indulge in a Culinary Extravaganza Featuring the Finest Cuts, Scenic Views, and a Curated Drinks Selection Every Friday Night Starting this week**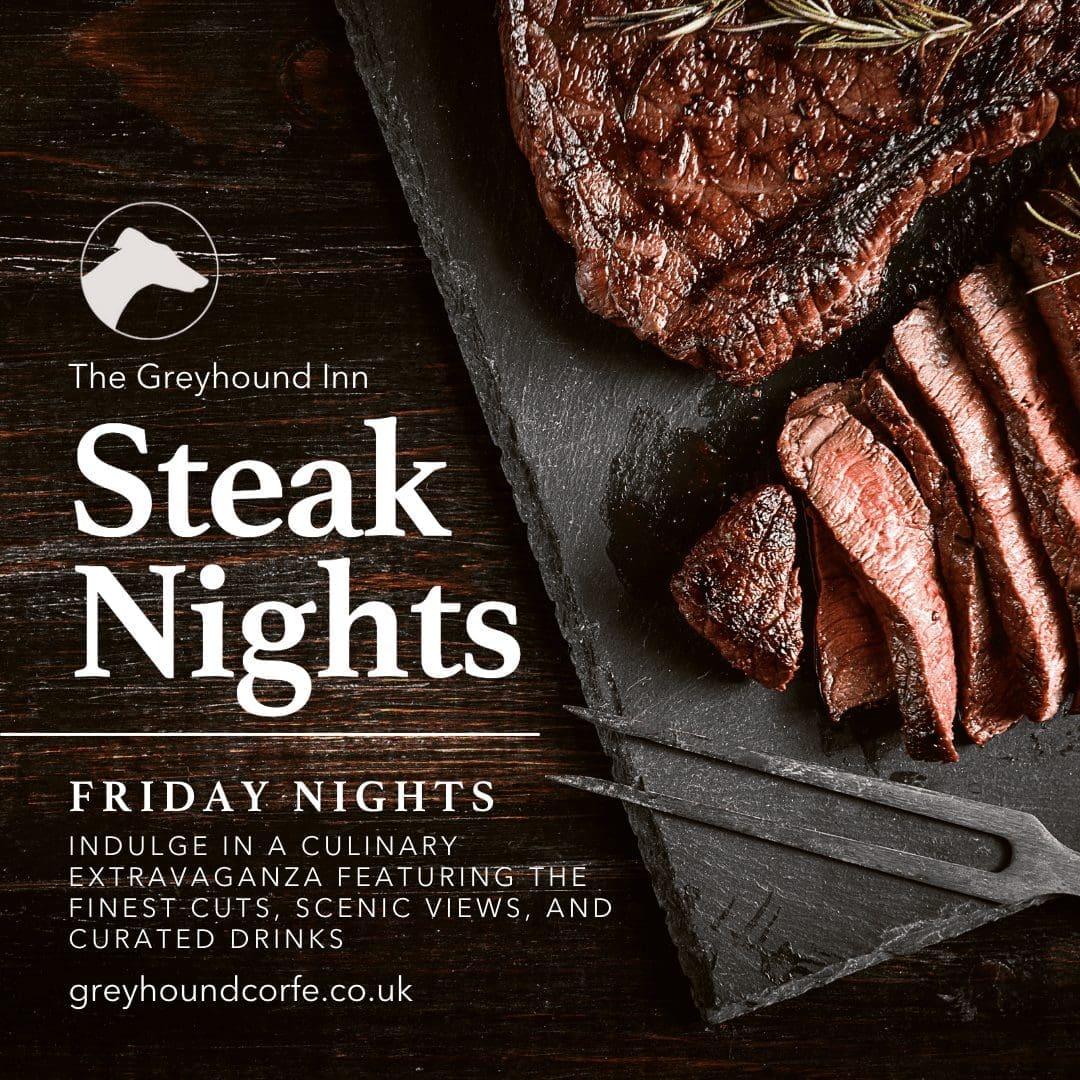 Hey there, steak enthusiasts! We've got some exciting news to share from the heart of Corfe Castle. Brace yourselves for our weekly Greyhound Inn Steak Nights, a gastronomic event that will take your taste buds on a wild ride. Picture this: mouth-watering steaks, classic sides that make you weak at the knees, and desserts that will have you craving for more. Trust us, this is an evening you won't want to miss. And guess what? It's happening every Friday night starting this week.
Prepare to be blown away by the culinary wizardry of our head chef, Alex Cirasaru, and his team of passionate chefs. They've meticulously crafted a menu that showcases the crème de la crème of steak cuts, cooked to absolute perfection. We're talking juicy Rump, succulent Sirloin, flavourful Ribeye, unforgettable Seitan Steak and the mighty T-Bone. And that's not all! Each steak comes with a side of crispy seasoned fries, roasted cherry vine tomatoes, and a garlic portobello mushroom. Oh, and did we mention the exquisite steak sauces? Take your pick from Mushroom, Peppercorn, or Blue Cheese. Trust us, it's a match made in steak heaven.
Now, let's talk about the drinks. We've handpicked a selection of local wines, spirits, local ales, and ciders that will make your taste buds dance with joy. Our knowledgeable staff will be your guides, helping you navigate the beverage landscape and finding the perfect pairing for your chosen steak. We take the "steak and wine" duo seriously here.
But hold on, it's not just about the food. It's about the entire experience. Picture yourself dining al fresco on our covered terrace or soaking up the atmosphere in our garden bar. And the view? Prepare to be mesmerised as you feast your eyes on the historic ruins of Corfe Castle and the nostalgic steam railway as you savour every delicious bite. Trust us, it's a moment you'll want to capture in your memory forever.
Now, we know you wouldn't want to miss out on this. Spaces are limited, and we don't want you to suffer from FOMO (Fear of Missing Out). So, go ahead and secure your reservation today. Let the Greyhound Inn Steak Night become the highlight of your week.
Don't forget to check out our steak night menu on our website to get a mouthwatering preview of the culinary delights that await you.
**Book your table now by visiting our website greyhoundcorfe.co.uk/book/ or by giving us a call at 01929 480205. Don't let FOMO get the best of you – come on down and indulge in the ultimate steak night experience at the Greyhound Inn, Corfe Castle!**